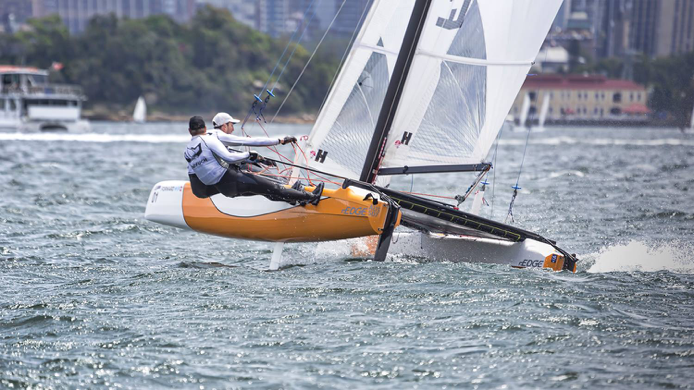 Brett Burvill & Ryan Duffield, sailing the Windrush designed and built Edge, have been crowned new Formula 18 Australian Champions for 2016. Brett & Ryan had been runners-up 3 times previously, hence their victory was well received.
Burvill & Duffield were in a tight fight the whole week with the Van Kerckhof brothers. Both teams scored 5 bullets out of 11 races! Stephen Medwell & Matthias Houvenagel were 3rd overall.
This years National Championships where held on iconic Sydney Harbour out of the historic Sydney Flying Squadron. SFS is the home of the first catamaran to be built in Australia, in 1903 by businessman Mark Foy. A total of 41 F18 catamarans showed up at the start.
The race committee was planning for 35 boats and ended up with 41 entries, an all-time record. The teams where presented with extremely vary and challenging conditions, ranging from 5 knts to 30knts, flat water and mixed chop and running tides. The event attracted sailors from all over Australia, New Zealand and a team from Hong Kong. 6 teams from Western Australia and 3 teams from far North Queensland, 2 from Tasmania, 11 from Victoria, 1 from South Australia and 1 from the ACT.
On the first day, Friday 22nd, only one race could be held because lack of breeze with the Van Kerckhof brothers in the lead. The second day, Saturday 23rd presented extremely challenging conditions with guts to 30knts and average wind around 20knts. The course was very tight with 41 boats fighting for each square metre of water. There was a bit carnage where fortunately nobody got hurt. Burvill & Duffield had a very good day in these heavy conditions and scored three bullets. James Clark was less fortunate, he had a full speed head on collision with Rod Waterhouse prior to the first race where both bows met at the fore beams. One of the Hobie Tigers was run over by a 50foot keel boat, they lived to fight another day though.
The third day, Sunday 24th, was all light airs and catching the tide, 3-8 knots across the course. The Van Kerckhof brothers started very well with two bullets in a row, but their third race didn't go well. Meanwhile Burvill & Duffield got things sorted out and scored two bullets in the last two races of the day. It was becoming clear that these two teams were going to fight for this year's title. 4 long races where completed.
On the final day, Monday 25th, teams where presented once again with shifty tide affected conditions, breeze between 5-8 knots. The first race the Van Kerckhof's pushed the envelope on a black flag start and took the lead that stayed till the end. In the second race was almost match racing between Burvill & Duffield and the Kerckhof brothers. Brett and Ryan defended a 3 point lead finishing 8th to Dan and Nathan's 6th.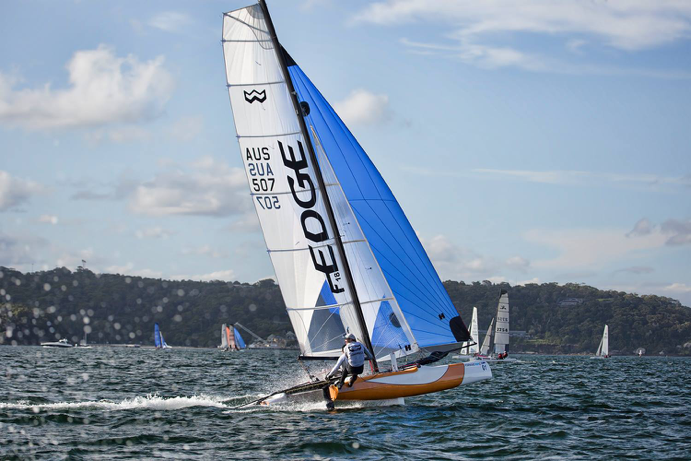 The teams reported satisfaction at a great event and expressed their thanks their sponsor Forward Sailing and to the many helpers than made the event run smoothly. The sailors are looking forward to the 2017 Nationals to be held in Victoria – where they expect to have over 50 teams challenging for the title.
Top 10 results:
Brett Burvill (17 points)
Daniel van Kerckhof (20 points)
Stephen Medwell (46 points)
Steve Brewin (57 points)
Greg Wyers (62 points)
Mick Guinea (66 points)
Shaun Connor (86 points)
Chris Boag (89 points)
Christopher Williams (93 points)
Trevorr Lowder (97 points)
Full results can be found here. More info and updates on the Australian F18 Facebookpage. Full photo gallery here.