Spitfire
Spitfire
The 'Spitfire 12' is the latest and most radical product of BDG's Marine division and Windrush yachts. This sleek hydrofoil was launched on 17th January 2002. In only its third sea trial on 2nd Febuary 2002, it could be seen thundering along more than a metre above the wave crests, off the coast of Perth. Remarkably, Spitfire succeeded in reaching speeds of up to 30 knots, on a day with only 18-25 knots of wind. With some more development and more experience under the crew's belts, designers Mark Pivac and Peter Eagles of BDG Marine expect the boat to reach a top speed of more than 40 knots.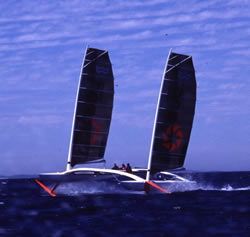 The 12 metre (40 feet) catamaran features twin rigs, sleek hulls and most notably, three hydrofoils which lift the hulls completely clear of the water, allowing Spitfire to accelerate to high speeds, without the burden of hull drag loads.
Spitfire's hydrofoils lift the hulls above the waves, so despite travelling at high speed the ride is reported by the crew to be smooth and quiet, even in relatively choppy seas.
The twin masts are unstayed, for superior aerodynamics and use experimental 'soft wing' double sided sails, also developed by BDG and Windrush, who have a patent pending for the technology.
Spitfire 12 is designed for coastal racing, and will be extremely competitive in all wind conditions (see performance estimates). Already, spitfire's crew are planning to attempt to the 24 hour record set by Steve Fossett in 2001. BDG Marine is also planning a larger, 24 metre (80 feet) version of Spitfire, designed for long distance ocean racing. This vessel would be capable of breaking prestigious records such as Playstation's transatlantic record, and the round-the-world race record. BDG is currently seeking sponsors for both projects.